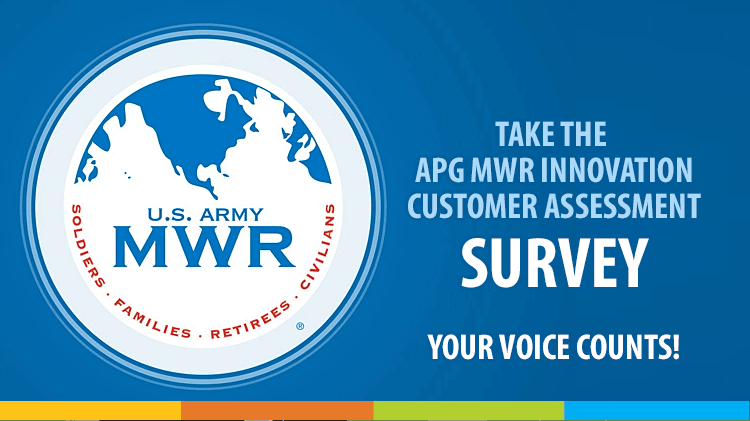 MWR Survey - Share your opinion!
To access the survey, visit: ArmyMWRsurvey.com/APG
As with Army installations across the country, our Aberdeen Proving Ground Family, Morale, Welfare and Recreation is the hub for the programming that keeps your family (military or civilian) active all year long. Whether it's fun, family-friendly activities, or financial or emotional resilience classes, the services offered at APG all have the same goal: helping you navigate the ups and downs of life.
The APG Garrison and the Installation Support Offices always strive for excellence and aim to meet your needs in the most effective way possible.
We value your feedback and invite you to take the APG MWR Innovation Customer Assessment Survey. We are interested in your opinions about your own readiness, as well as your experiences with some of the MWR programs and services you use at APG.
The survey takes just a few minutes to complete, and will have long-term impacts as we plan for the future to best meet the needs of Soldiers, Retirees, Civilians and their Families.
To access the survey, visit ArmyMWRsurvey.com/APG. It will remain open to Team APG participants until June 15.
If you have already taken the survey we thank you for your participation and ask that you do not take the survey a second time. If you have not already taken the survey, please consider doing so now.
It is through your insights and feedback that we can continue to offer the services most relevant and pertinent to our installation community.
Team APG Strong!
Col. Rob Phillips, APG Garrison Commander