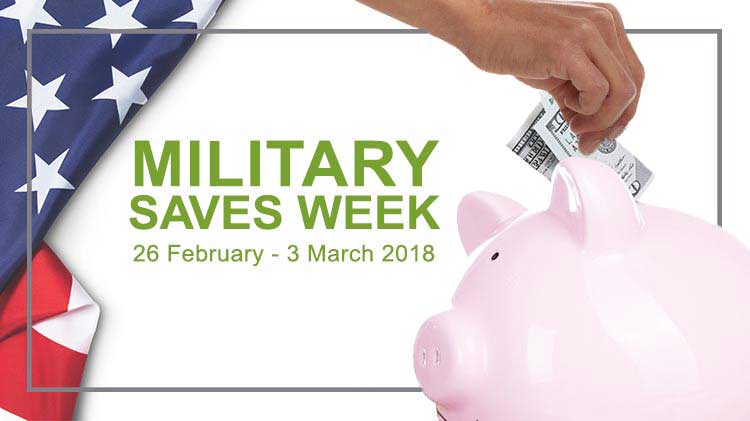 Military Saves Week - Seminars
Location: AA Recreation Center, Bldg 3326, Erie St.
Cost: Free!*

Tues, Feb 27, 2018
Seminar: "Credit & Debt Management" 9:30 - 10:30 a.m.
Discusses the advantages and disadvantages of using credit. This class explains how lenders calculate the interest rates on money they lend. How to choose and apply for charge accounts, credit cards, and installment loans, and how to responsibly manage these accounts.
Seminar: "Home Buying" 10:45 - 11:45 a.m.
This seminar will cover current real estate market conditions, and how that relates to home buying. We will also provide take-home information packets that discuss the step by step process as well as useful tips in buying real estate.
Seminar: "Breaking the Debt Cycle" 12 - 1 p.m.
If debt is dragging you down, take control of it before it takes over your life. Do you know how much you owe? Have you figured your own "safe" credit limit? Do you know what percentage of your total credit limit is safe to charge? Do you know the warning signs that you may have too much debt.

Wed, Feb 28, 2018
Seminar: "Saving & Investing" 9:30 - 10:30 a.m.
This class will identify reasons to save and how to set goals for a savings plan. Participants will explore the difference between short term savings and long term investments.
Seminar: "Home Selling" 10:45 - 11:45 a.m.
This seminar covers everything from staging to settlement learn to prepare and stage your home, gather the necessary documents and understand the process from hanging the for sale sign to settlement day.
Seminar: "Money Habitudes" 12 - 1 p.m.
Discover your money personality.
Workshop Objectives:
Identify your money personality.
Discuss advantages and challenges of each money habitude.
Understand how money habitudes provide the keys to financial and life success.
Discover the real issues that keep people from reaching their goals.
* All seminars are free but registration is required.